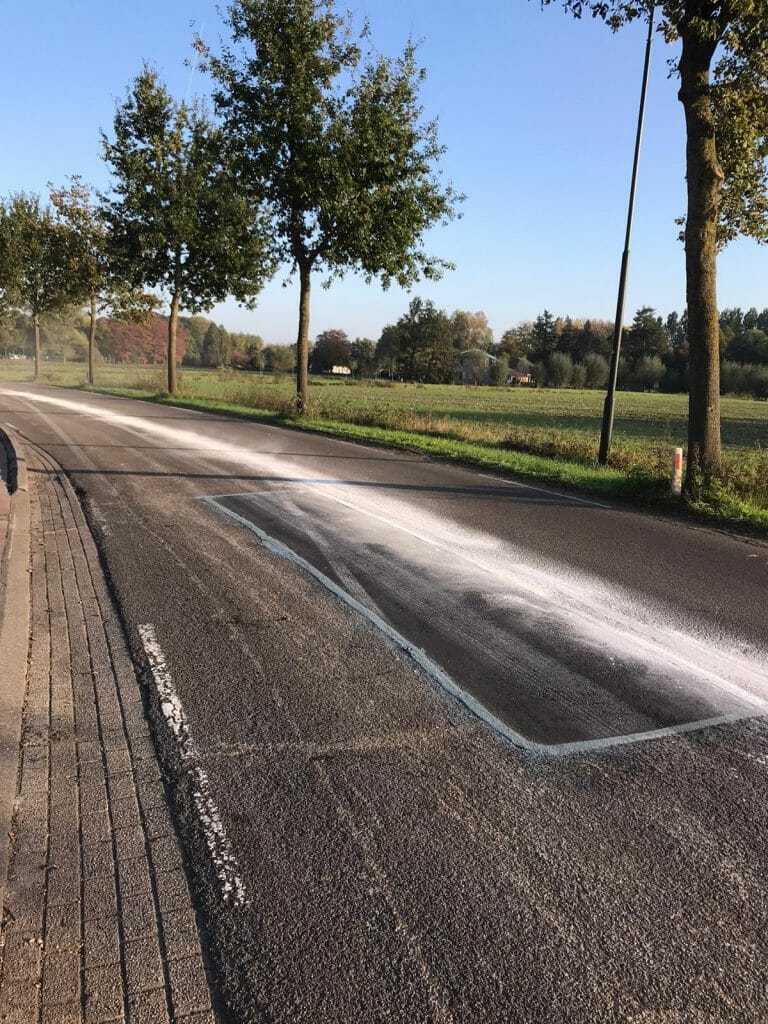 Er wordt binnen veel sectoren gesproken over duurzaamheid. Duurzaamheid betekent echter niet alleen de aanschaf van nieuwe en milieuvriendelijkere materialen en machines. Duurzaamheid begint bij de basis; als je thuis wilt verduurzamen hoef je ook niet altijd direct over te stappen op de zonnepanelen of vergelijkbare installaties. Je kunt al beginnen met bijvoorbeeld het scheiden van het afval, er extra op te letten dat alle lampen uit zijn, LED lampen gebruiken en niet al je spullen direct weg gooien maar deze eerst proberen te repareren. Steeds vaker wordt onze "weggooi cultuur" dan ook bekritiseerd.
Dit is niet anders bij asfaltonderhoud. Een wegbeheerder kan, wanneer het wegdek onveilig wordt door schade of veroudering, kiezen voor vervanging, korte termijn herstel of langdurig herstel. Rekening houdend met diverse factoren zal hij zijn beslissing nemen. En dan blijkt duurzaam herstel bijna altijd de meest passende oplossing.
Op de Schijndelseweg in Sint-Michielsgestel hebben we om de levensduur te verlengen diverse onderhoudswerkzaamheden mogen uitvoeren. We hebben klein herstel uitgevoerd om gaten en rafelingen te herstellen. Tevens hebben we 200 m² gebakfreesd om diverse grotere schades aan te pakken. Deze freesvakken zijn machinaal voorzien van een nieuwe asfaltdeklaag. Als laatste hebben we 1000 strekkende meter scheurherstel uitgevoerd.
Door de combinatie van al deze herstelspecialisaties hebben we de opdrachtgever volledig kunnen bedienen in hun wens om voor deze weg de levensduur te verlengen.
Bij de werkzaamheden hebben wij ook plaatselijk markering aangebracht en hebben wij de benodigde verkeersmaatregelen verzorgd.
AWS Asfaltwerken groot in Klein asfaltonderhoud.
https://www.asfaltwerken.nl/wp-content/uploads/2019/12/Foto-05-11-2019-08-48-25-768x1024-1.jpg
1024
768
bonsai
https://www.asfaltwerken.nl/wp-content/uploads/2020/08/AWS-logo.png
bonsai
2019-12-02 12:08:35
2020-09-22 14:48:48
Levensduurverlenging