Asfalt ligt werkelijk overal en ondanks dat bijna iedereen, bij het horen van het woord asfalt, aan de openbare wegen denkt liggen er ook honderdduizenden meters asfalt bij bedrijven(terreinen) en particulieren.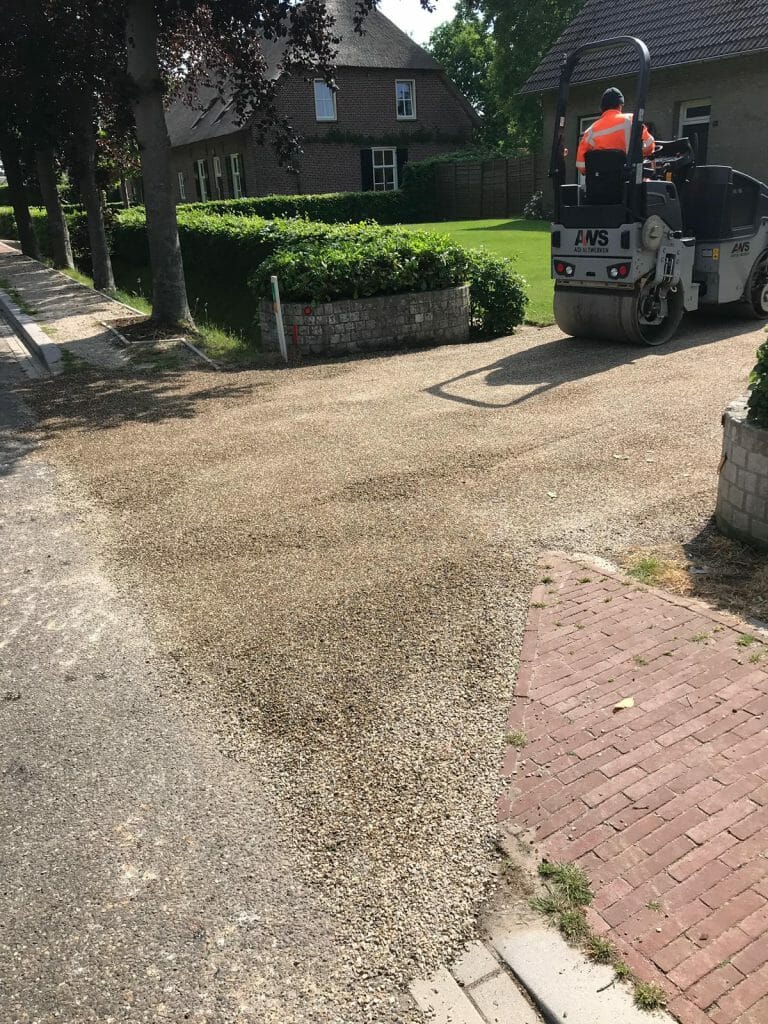 Dit asfalt wordt vaak minder intensief gebruikt dan het asfalt op de weg, maar dat betekent niet dat er geen schade aan het asfalt kan optreden, het omgekeerde is soms zelfs waar. Ook dit asfalt moet goed onderhouden worden om scheurvorming en opdrukkingen te voorkomen en te verhelpen.
Voor veel particulieren verzorgt AWS Asfaltwerken de asfaltwerkzaamheden en omdat dit juist voor deze groepen geen dagelijks werk is, staan onze adviseurs klaar om het best passend advies te leveren. We bekijken ter plaatse of herstel of vernieuwing de beste oplossing is en we adviseren over de best passende verdere bewerking. Een voorbeeld hiervan is het aanbrengen van een slijtlaag.
Een slijtlaag is de bovenste laag stenen/grind die zorgt voor het uiterlijk van het asfalt. De split die hiervoor wordt gebruikt is in vele kleuren mogelijk en het advies hierover is voor iedere (semi) particuliere opdrachtgever essentieel.
Naast het geven van een passend uiterlijk heeft een slijtlaag een andere, erg belangrijke, rol: Het doel van het aanbrengen van een slijtlaag is om kleine scheurtjes en/of oneffenheden af te dichten en daarmee de levensduur van het asfalt te verlengen. Het asfalt wordt door deze behandeling beschermt tegen weersinvloeden en (zon)licht.
Voor particulieren is het aanbrengen van een (nieuwe) slijtlaag daarmee een goedkope oplossing om te zorgen dat het asfalt er weer netjes uitziet.
https://www.asfaltwerken.nl/wp-content/uploads/2020/08/AWS-logo.png
0
0
bonsai
https://www.asfaltwerken.nl/wp-content/uploads/2020/08/AWS-logo.png
bonsai
2019-06-19 08:50:48
2019-06-19 08:50:48
Asfaltwerken voor particulieren