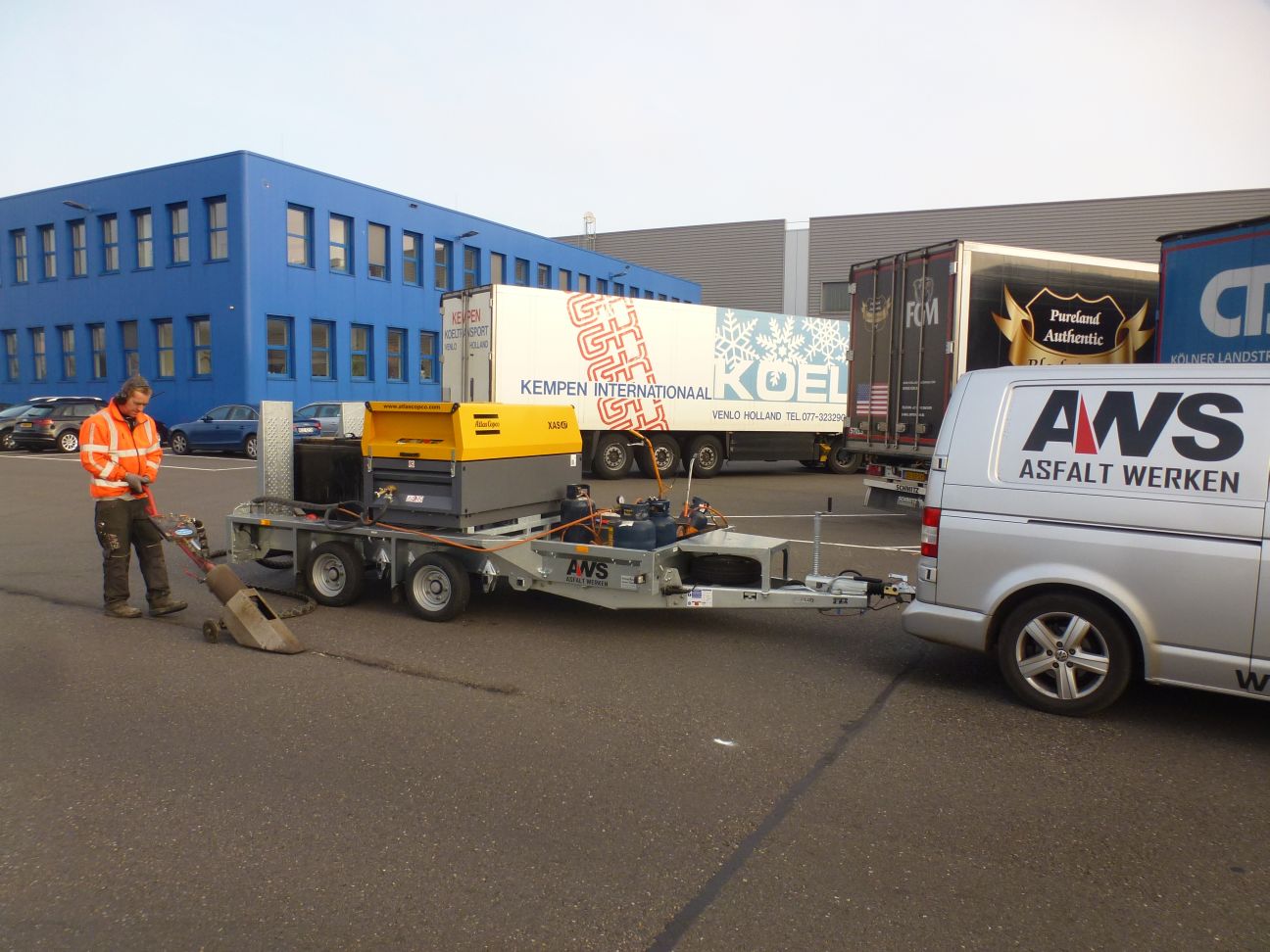 AWS Asfaltwerken B.V. heeft voor scheurreparatie, een speciale compacte reparatieploeg voor de kleinere projecten.
Deze compacte reparatieset kan speciaal worden ingezet voor de kleinere opdrachten met geringe hoeveelheden aan scheurreparatie. Denk hierbij aan de reparatie van 1 tot ca. 600 strekkende meter aan asfaltscheuren.
De set bevat alle nodige machines en middelen voor de reparatie van scheuren middels het "Overseal-Banding Systeem" ook wel de "Hotdog Methode" genoemd. Naar wens van de opdrachtgever maken wij gebruik van een "Hotdog" of een hetelucht lans voor het zuiverblazen van de asfaltscheuren. De scheuren worden daarna gevuld met een bitumineuze voegvulmassa en afgestrooid met leislag, fijne steenslag of brekerzand.
De reparatieset wordt onder anderen gebruikt voor werkzaamheden op (kleine) bedrijventerreinen en wordt door aannemers en overheden ingezet bij geringe hoeveelheden aan scheurreparatie. Naast een van de kleine sets kunnen wij ook grote hoeveelheden scheurreparatie uitvoeren met een grote voegvulketel (500 liter). Voor een vrijblijvende offerte voor de reparatie van asfaltscheuren kunt u een mail sturen naar info@asfaltwerken.nl of direct bellen met 0493-842840.
0
0
bonsai
https://www.asfaltwerken.nl/wp-content/uploads/2023/03/AWS-logo.webp
bonsai
2015-09-09 11:49:31
2015-09-09 11:49:31
Compacte reparatieploeg voor scheurreparatie van kleinere projecten.