Binnen onze branche hoor je het vaak: "wat een mooi asfalt". Mensen die niet in de asfaltwereld werkzaam zijn kijken ons dan gek aan en kunnen zich oprecht niet voorstellen wat er mooi kan zijn aan asfalt. Maar echt: Ook asfalt kan mooi zijn. Niet alleen de structuur of de manier waarop we het aanbrengen maar ook de afbeeldingen die we er, middels markering (figuratie, op kunnen aanbrengen.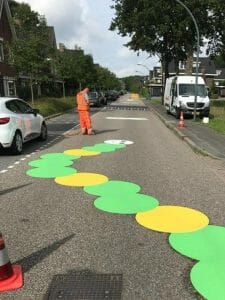 Je komt het misschien nog niet veel tegen maar ook asfalt kan nog mooier worden gemaakt door de zogeheten Markeringssymbolen. En wij verwachten, door de brede inzetbaarheid, dat je dit steeds vaker in het straatbeeld zult gaan zien.
Niet alleen is het mooi en leuk, ook kan het een boodschap brengen. Hoe mooi is het bijvoorbeeld als je als bedrijf, sportvereniging of gemeente jouw logo op een parkeervlak kunt plaatsen? En hoe veilig is het als je op de weg aangeeft wat er in de omgeving gebeurt?
Zo ook in de Oosterhoutse wijk de Vlindervallei. In deze kindvriendelijke wijk, met veel speelplekken, werd ondanks alle bekende maatregelen als borden en drempels toch nog altijd vaak te hard gereden. Het aanbrengen van opvallende, en passende, visuele markeringen moet daar verandering in gaan brengen. Op deze manier wordt de wijk niet alleen mooier en meer bijzonder maar ook veiliger.
Wat een mooie toepassingen van voorgevormde markeringen waar AWS Asfaltwerken graag in ondersteunt. Meer over dit project in de Projectfactsheet.
0
0
bonsai
https://www.asfaltwerken.nl/wp-content/uploads/2023/03/AWS-logo.webp
bonsai
2018-10-01 08:27:02
2021-05-06 15:53:00
Markeringssymbolen (figuratie) van vlinders en rupsen zorgt voor extra veiligheid!