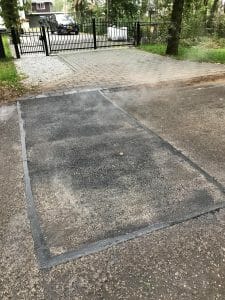 Wanneer leiding of kabels gelegd moeten worden op plaatsen waar ook asfalt ligt, of wanneer deze er al liggen en hersteld moeten worden moet het asfalt verwijdert worden. Wanneer de werkzaamheden zijn uitgevoerd worden de ontstane gaten vaak tijdelijk afgedicht met betonklinkers. In de asfaltwereld staat dit bekend als " klinkersleuf ". Indien er door de klinkersleuf geen gevaarlijke situaties ontstaan sparen veel gemeentes werkzaamheden rondom het herstellen van deze klinkersleuven op tot een moment waar een specialistische partij, als AWS Asfaltwerken, veel vakken tegelijk kan herstellen.
Zo gebeurde het onlangs ook in de Gemeente Ermelo: op ruim 20 locaties vervingen de specialisten van AWS Asfaltwerken meer dan 50 tijdelijke klinkersleuven en brachten ze duurzaam en kwalitatief asfalt aan zodat de weg, en de onderliggende leidingen en kabels weer jaren beschermt zijn tegen alle externe invloeden. Tijdens deze opdracht zijn wij 4 dagen werkzaam geweest. We namen alle bijbehorende werkzaamheden uit handen; we verwijderden de klinkers, hebben een geschikte asfaltonderlaag aangebracht voor het verlengen van de levensduur, hebben een liplas gefreesd om een goede verbinding te creëren en hebben het uiteindelijke asfalt voorzien van een deklaag waardoor water, vocht en vuil niet meer in het asfalt kunnen binnendringen.
Hiermee is de gemeente weer helemaal klaar en is, naast alle kabels en leidingen, ook het asfalt weer volledig up-to-date!
[su_slider source="media: 9087,9088,9089,9090″ width="500″ height="400″ responsive="no" title="no" mousewheel="no" autoplay="3000″ speed="2000″]
0
0
bonsai
https://www.asfaltwerken.nl/wp-content/uploads/2023/03/AWS-logo.webp
bonsai
2018-11-02 11:49:56
2018-11-02 11:49:56
Kabel, leidingen én asfalt weer volledig up-to-date