AWS Asfaltwerken heeft snel naam kunnen maken binnen de asfaltwereld door onze unieke, innovatieve en gepatenteerde Vlakslijptechniek die asfaltschades effectief, nauwkeurig en duurzaam herstelt. Deze techniek is zo innovatief en multifunctioneel dat we deze, met enkele aanpassingen, voor meerdere toepassingen kunnen inzetten. Ook herstel aan betonfietspaden en betonwegen kunnen we hiermee eenvoudig uitvoeren.
Beton wordt in de basis gekozen door de unieke eigenschappen die een lange levensduur realiseren. Na langdurig gebruik kunnen grootschalige verzakkingen of opdrukkingen ter hoogte van een voeg echter alsnog oneffenheden veroorzaken.  Deze oneffenheden veroorzaken gevaarlijke situaties voor de gebruikers.
De AWS Vlakslijptechniek biedt ook in deze situaties de effectieve, nauwkeurige, en duurzame oplossing. Met klein materieel en ons professionele team pakken we dergelijke oneffenheden aan en herstellen we de fietspaden en wegen zeer nauwkeurig. Door onze compacte machines, ons geïntegreerde afvoersysteem om vrijgekomen afvalstoffen op te vangen en de geluidsarme toepassing gebeurd dit met minimale overlast voor de omgeving.
Velen opdrachtgevers weten ons inmiddels te vinden voor deze herstelwerkzaamheden. Tijdens de koude laatste weken van Maart 2018 hebben we op diverse locaties deze werkzaamheden uit mogen voeren want een ander voordeel van onze techniek is dat we deze betonherstelwerkzaamheden onafhankelijk van het vorst kunnen uitvoeren.
Meer over deze projecten op onze projectfactsheet: Project_betonherstel
Heb jij schade aan betonpaden en wegen? Laat het ons weten.
We adviseren je graag over de mogelijkheden. Neem contact met ons op via info@asfaltwerken.nl of +31 493 842 840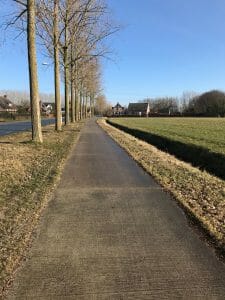 0
0
bonsai
https://www.asfaltwerken.nl/wp-content/uploads/2023/03/AWS-logo.webp
bonsai
2018-03-29 10:25:20
2018-03-29 10:25:20
De AWS Vlakslijptechniek toegepast op betonfietspaden en wegen in Eijsden, Reusel en Best.