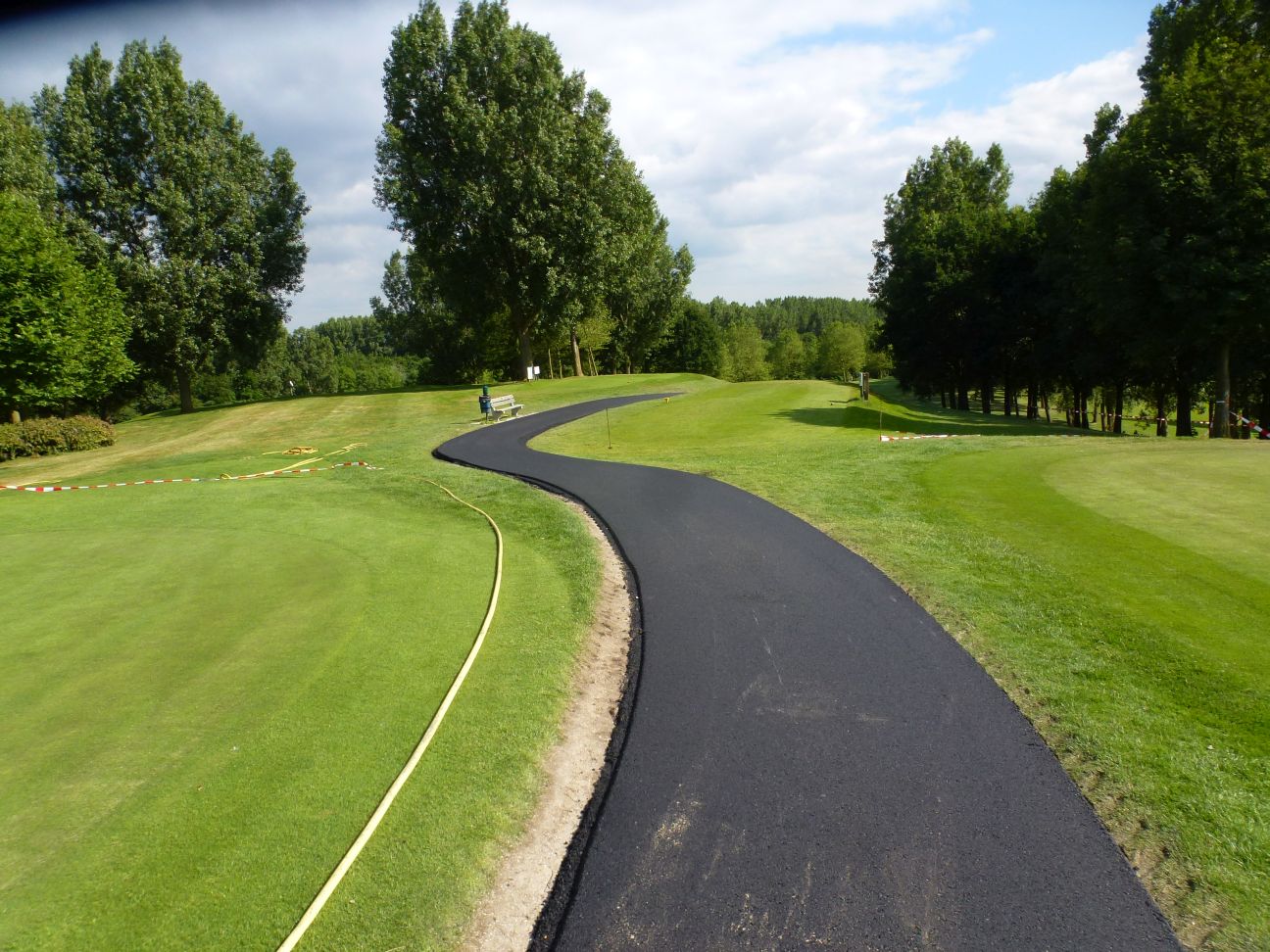 AWS Asfaltwerken heeft een aantal voetpaden geasfalteerd op Golfbaan De Hooge Rotterdamse.
De bestaande paden van een puin-/repakfundering rondom het clubhuis en de golfbanen zijn vervangen door asfaltpaden. In totaal is ruim 1000 vierkante meter aan paden voorzien van een onderlaag en een deklaag.
Na overleg met de opdrachtgever over de uitvoering is een strakke planning opgesteld voor de werkzaamheden. Door de flexibele werkwijze en de inzet van het juiste materieel is een zeer nette asfaltverharding keurig binnen de afgesproken termijn opgeleverd en hebben de bezoekers van de golfbaan minimale overlast ondervonden van de werkzaamheden.
In de slider zijn enkele foto's te zien van de voetpaden voor, tijdens, en na de werkzaamheden.
Wilt u ook uw voetpaden laten asfalteren? Of heeft u vragen over de vele mogelijkheden van asfalt voor bijvoorbeeld wandelpaden, voetpaden, fietspaden of uw gehele erfverharding? Neem dan vrijblijvend contact op met AWS Asfaltwerken.
[su_slider source="media: 5942,5936,5938,5937,5940,5939″ width="500″ height="400″ title="no" autoplay="2000″ speed="1200″]
0
0
bonsai
https://www.asfaltwerken.nl/wp-content/uploads/2023/03/AWS-logo.webp
bonsai
2015-06-30 15:43:19
2015-06-30 15:43:19
Voetpaden geasfalteerd op golfbaan in Rotterdam.