Particuliere inrit volledig up-to-date
Asfalt niet mooi? Nou, daar zijn wij het toch niet mee eens.. Asfalt kent, naast het zwarte asfalt waaraan iedereen denkt, vele mogelijkheden om het volledig op te laten gaan in de omgeving. Asfalt is, door onder andere een kenmerk als duurzaamheid, zeer geschikt als verharding op particuliere- en (klein) zakelijke terreinen.
Met aandacht voor advies, de juiste afstemming en het kwalitatief aanbrengen van zowel de ondergrond (emulsie) als de afwerking (split) is een asfaltverharding juist een echte aanvulling en maakt het, het omgevingsbeeld compleet.
Benieuwd of asfalt, of het aanbrengen van een passende split iets is voor jou? Neem contact met ons op. Onze adviseurs bekijken graag samen met jou de mogelijkheden om tot een schitterend totaalplaatje te komen.
Dit deden we ook voor een opdrachtgever in Son en Breugel. Na vakkundig advies mochten wij op de inrit van dit woonhuis 250 m2 bitumineuze slijtlaag aanbrengen. Deze hebben we ingestrooid met een rode split (tilrood) en het totaalbeeld mag oprecht een plaatje genoemd worden.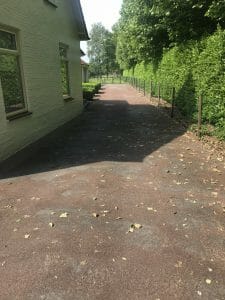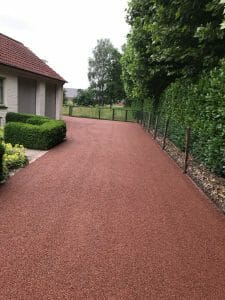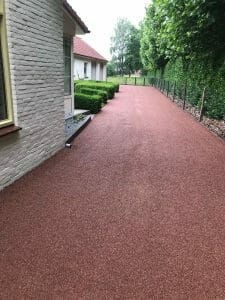 0
0
bonsai
https://www.asfaltwerken.nl/wp-content/uploads/2023/03/AWS-logo.webp
bonsai
2018-06-29 10:41:41
2018-06-29 10:41:41
Particuliere inrit volledig up-to-date