Een voegovergang is een voeg (tussenstuk) in veelal een brug of viaduct. Een dergelijke overgang wordt aangebracht om een begaanbare overgang te vormen tussen de verschillende delen van het brug- of wegdek. Er bestaan veel verschillende manieren en materialen voor het aanbrengen van een voegovergang. Eén hiervan is de Bitumineuze voegovergang.
Bij een overspanning tot 50 m, een beperkte voegbreedte (tot ong. 45 mm) en minimale hoogteverschillen is deze methode de meeste ideale. Dit gezien de snelheid waarmee deze aangebracht kan worden en het geluidsvriendelijke resultaat.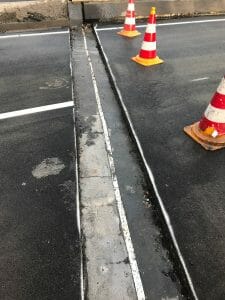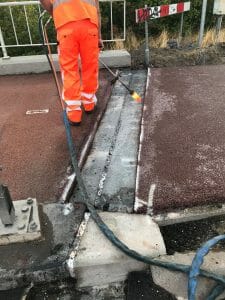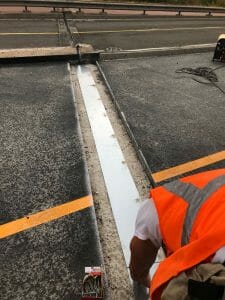 AWS Asfaltwerken voert voor veel opdrachtgevers deze bitumenverwerkende werkzaamheden uit. Voor één van onze opdrachtgevers mochten we in Breda een Bitumineuze voegovergang aanbrengen op een brugdek. In twee fasen brachten we 50 meter, met een voegbreedte van 45 mm, aan. Voor een optimaal resultaat hebben we deze overgang afgestrooid met vuurgedroogd split.
Op deze manier creëerden we snel en daadkrachtig een veilige overgang waar men de komende jaren plezier van heeft.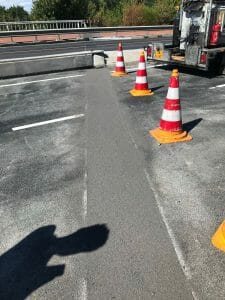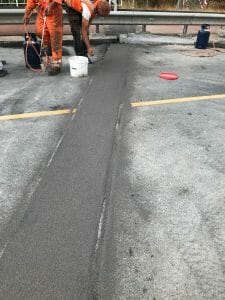 0
0
bonsai
https://www.asfaltwerken.nl/wp-content/uploads/2023/03/AWS-logo.webp
bonsai
2018-09-14 10:19:21
2021-05-06 15:44:32
Brug wordt begaanbaar door de voegovergang van AWS Asfaltwerken